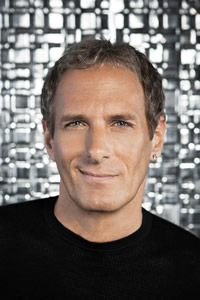 MICHAEL BOLTON BIO
Michael Bolton, the multiple Grammy Award-winning Singer, Songwriter and Social Activist, who has sold more than 53 million albums and singles worldwide, continues to tour the world every year, all while writing, recording and taping for a wide array of projects spanning music, film, television and theater. Bolton remains committed to humanitarian causes, especially through the Michael Bolton Charities as well as other social and political organizations. Known for his soulful voice and poignant lyrics, his timeless style, charm and good looks have also earned him a spot in several "People Magazine's Sexiest Man" issues, including 2012's "Sexiest Man Alive." He most recently became a viral sensation for featuring in The Lonely Island's hugely popular, "Captain Jack Sparrow" video that launched on Saturday Night Live and was performed live on the Emmys. The Emmy-nominated video has racked up over 95 million views on YouTube, where it was the 3rd most viewed video of 2011. Bolton credits his fans with being "the best in the world" and loves nothing more than bringing his timeless hits to audiences globally.

In recognition of his artistic achievements, Michael won 2 Grammys for Best Pop Male Vocal Performance (nominated four times), 6 American Music Awards, and a Star on the Hollywood Walk of Fame. As a songwriter, he has earned over 24 BMI & ASCAP Awards, including Songwriter of the Year, 9 Million-Air awards, and the Hitmakers Award from the Songwriters Hall of Fame.

Internationally renowned, Michael has recorded and performed with musical icons that have inspired and influenced his own career. He joined Luciano Pavarotti on stage in a highly praised rendition of "Vesti La Giubba," and pays homage to the Italian tenor when performing the aria "Nessun Dorma" at each of his concerts while on tour. He has sung with Placido Domingo, Jose Carreras and Renee Fleming and played guitar with BB King. Bolton earned a Grammy-nomination for "Georgia on my Mind," and was invited to sing the classic song to Ray Charles when Ray was honored at the International Jazz Hall of Fame Awards in 1997. Michael performed duets with both Seal and Lara Fabian to standing ovations for a March 2011 David Foster and Friends PBS special.

A diverse and prolific songwriter, Bolton has collaborated with some of the greatest songwriters and producers of our time, Lady Gaga, Diane Warren, Desmond Child, David Foster, Walter Afanasieff, Kenneth "Babyface" Edmonds, John "Mutt" Lange, Dann Huff, A.R. Rahman, Phil Ramone, Ne Yo, and Billy Mann, among others. He is one of the very few artists to have co-written with the legendary Bob Dylan, resulting in the mega hit, "Steel Bars." Michael has penned songs that have been recorded and performed by a diverse list of over 100 artists, ranging from country western legend Conway Twitty to hip hop superstar Kanye West featuring Jay Z and John Legend. Other greats who have performed Bolton's songs include Mark Anthony, Wynonna Judd, Joe Cocker, Peabo Bryson, Kenny Rogers, and Patti LaBelle. Michael has written #1 hit singles impacting the careers of artists such as Laura Branigan ("How Am I Supposed to Live Without You"), KISS ("Forever"), Barbra Streisand ("We're Not Making Love Anymore"), Cher ("I Found Someone"), and Kenny G ("By the Time this Night is Over").

Michael has always balanced a love for writing new songs with a passion for covering the classics. On his breakthrough album The Hunger, Bolton authored the #1 single "That's What Love is All About" and sang his chart topping version of Otis Redding's "(Sittin' On) the Dock of the Bay," which was a hit on 4 radio formats. That album was certified double Platinum and shipped 4 million copies worldwide.

To date, Michael has seen 8 studio albums rank in the Top Ten, with 9 #1 singles. Bolton's true signature success was seized with the album Soul Provider, selling more than 12.5 million copies world-wide, and showcasing several chart-toppers including the #1 hit single "How Am I Supposed to Live Without You," which earned Michael his first Grammy. This pivotal album also includes the hit singles "When I'm Back on My Feet" Again," "How Can We Be Lovers," "Soul Provider," and of course the Grammy-nominated "Georgia on My Mind."

Soon after, Bolton released the #1 album Time, Love & Tenderness, which has sold over 16 million copies world-wide, and features his Grammy Award-winning vocal performance of the #1 blockbuster hit "When A Man Loves a Woman." This album also produced the hit singles: "Love Is a Wonderful Thing," "Time, Love and Tenderness" and "Missing You Now," as well as the Dylan co-write "Steel Bars."

Bolton followed this up with a collection of soulful classics on Timeless, delivering the hit singles "To Love Some Somebody" and "Reach Out I'll Be There." Timeless sold over 7 million copies worldwide.

From his next album The One Thing came Michael's massive single "Said I Loved You...But I Lied," which spent 12 weeks at #1 on the AC charts and earned him another Grammy-nomination.

Michael has always been attracted to a wide array of musical categories, from Sinatra favorites (Bolton Swings Sinatra), to classical arias (My Secret Passion), which achieved #1 on the classical charts for 6 consecutive weeks. His most recent studio album features an authentic approach to Motown and soulful classics, as well as original songs written in the same vein.

Michael's songs and performances have been featured in numerous television and film soundtracks, including the Oscar-nominated theme song "Go the Distance" from Walt Disney's blockbuster animated film Hercules. He also executive produced the documentary Terror at Home addressing Domestic Violence in America, and was Emmy-nominated for writing the title song "Tears of The Angels". Most recently, Michael was cast to act and sing in the season premier of NBC's hit primetime TV show Two and a Half Men and landed is own new comedic series on ABC.

For his dedication to social activism, Michael has been honored with several Humanitarian awards - including the Martin Luther King Award granted by the Congress of Racial Equality (C.O.R.E.), the Lewis Hine Award from The National Child Labor Committee, the Ellis Island Medal of Honor from the National Ethnic Coalition of Organizations, and the Frances Preston Lifetime Achievement Award. Michael is especially proud of the initiatives carried out by his own foundation, the Michael Bolton Charities, now in its 20th Year of advocating on behalf of women and children at risk.


This BIO and Photo was reproduced from the Jamaica Jazz & Blues Media Press Kit
[
Back To Negril Travel Guide.com Home Page
]

•
Where To Stay
•
Restaurants
•
Shopping
•
Services
•
Recreation
•
Arts & Heritage
•
Calendar Of Events
•
Night Life
•
Travel Information
•
Photo Gallery
•
Jamaican Attractions
•
Jamaican Music Industry Directory
•
Home
•

•
About Us
•
Complimentary Listing
•
Contact Us
•
•
Our Privacy Policy
•
Disclaimer
•

The NegrilTravelGuide.com is Designed, Developed, Hosted, Marketed, and Maintained by:

Photographs by Barry J. Hough Sr. Photojournalist/Photographer
All Photographs taken with a Nikon D70, D100, D300, or Canon EOS Mark II
© Barry J. Hough Sr - BarryJHoughSr.com. All photos, graphics, text, HTML forms or other contents published in NegrilTravelGuide.com are the sole property of Barry J. Hough Sr - BarryJHoughSr.com and may not be reproduced, copied or utilized in any form without written permission. All Rights Reserved.