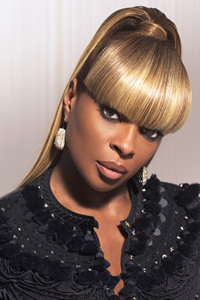 MARY J. BLIGE BIO
"I know who I am and what I can do.
With each album, it's just me continuing to grow."

Pure, unadulterated and empowering. That has been Mary J. Blige's calling card ever since her 1992 multi-platinum debut album, What's the 411? And in the ensuing years, the singer/songwriter's musical strong suit has attracted an intensely loyal fan base--responsible for propelling worldwide sales of more than 50 million albums.

With a track record of eight multi-platinum albums, nine Grammy Awards (plus a staggering 29 nominations), a 2012 Golden Globe nomination, and four American Music Awards, Blige is only getting started. The singer returns just as fierce and compelling on her 10th studio album, the aptly titled "My Life II ... The Journey Continues (Act 1)." Released via Blige's Geffen/Interscope-distributed Matriarch label, the new project doubles as the sequel to Blige's 1994 classic My Life.

"The original My Life started a movement," reflects Blige. "And every album since then, from Share My World and No More Drama to The Breakthrough and Stronger With Each Tear, has marked a point of growth and evolution for me and my fans. What's consistent is the fact that we all remain challenged in life to get to that next level. That's one of the reasons for this sequel. And given the climate right now--the recession, war and other issues--I remembered there was so much healing with the first My Life. So that was another perspective behind my recording the album."

Blige once again fashions a moving testimony about love, devotion and inner strength. Providing the album's cornerstone is the track "Living Proof." Also the closing song for the hit movie "The Help," the spare yet powerful "Living Proof" speaks volumes about life's hard-won rewards. The song also gained Blige a Golden Globe nomination. It also resonates with Blige's own growth as a woman and a singer/songwriter whose innate connection with her fans is unshakable. Bearing witness is the song's second verse: "So glad the worst is over \ Cuz it almost took me out \ I can start living now \ I feel like I can do anything \ Finally I'm not afraid to breathe."

"My fans and I are living examples that you can turn a negative situation into something positive," declares Blige. "Conceptually, people have heard me like this. But artistically, with just a guitar, I don't think they've ever heard me like that before."

And Blige's artistic growth doesn't stop there. She goes toe to toe with Drake on her current uptempo chart-climber "Mr. Wrong," then displays equal doses of fervor and naked honesty, respectively, on "25/8" (sampling the late Heavy D gem "Now That We Found Love") and "No Condition." She taps her rap alter ego Brook Lynn for the romance-sparked "Midnight Drive." And as she did in 1993 with the 1975 Rufus featuring Chaka Khan hit "Sweet Thing," Blige stamps new meaning onto a dance-floor revamp of the group's 1983 classic "Ain't Nobody." Rounding out Blige's life sequel are guest turns from Nas, Busta Rhymes, Rick Ross and a first-time pairing with Beyonce on the diva-licious "Love a Woman."

"A lot of women are misunderstood and a lot of men think they know what to do. But they don't," says Blige with a laugh. "This overall topic is very important right now."

To help map our her Life journey, Blige collaborated with such intuitive producers as Jim Jonsin, Rico Love, Jerry "Wonda" Duplessis, Danja, Rodney "Darkchild" Jerkins, Sean Garrett, Tricky Stewart and the Underdogs. "Whoever has the right track that grabs my spirit, moves me and goes with the topics I'm coming up with ... those are the producers I go for," says Blige about her creative process.

Born in the Bronx, New York, Blige began moving people with her soulful voice when at 18 she signed with Andre Harrell's Uptown Records in 1989, becoming the MCA-distributed label's youngest and first female artist. Influenced at an early age by the music of Aretha Franklin, Chaka Khan and Gladys Knight, Blige brought her own gritty, urban-rooted style--fusing hip-hop, soul and honest, frank lyrics--to the forefront on her 1992 debut album What's the 411? The multi-platinum set, executive produced by Sean "Diddy" Combs, quickly spun off several hits, including two No. R&B No. 1s: "You Remind Me" and "Real Love."

Earning the nickname the "Queen of Hip-Hop Soul," Blige began forging a unique niche for herself on the more personal second album, 1994's My Life. Co-writing a major portion of the album this time around, Blige reaped such hits and signature songs as "Be Happy" and a cover of Rose Royce's 1976 hit "I'm Goin' Down." At the time she was dealing with several serious issues in her life, including drug addiction, alcoholism and an abusive relationship.

Notes Blige, "When I went first went into the studio to work on My Life II, it occurred to me how strong I've become since then. And that what has made me strong is not just the joy and great things happening in my life but the trials and difficulties that cause you to want to move out of that uncomfortable place to get to the next stage. With the first My Life album, I didn't have that understanding. I just did not know why I was suffering so bad, why I was hurting."

And thus began the Blige movement: connecting legions of fans who identify with and have accompanied her throughout her personal travails and growth--all fearlessly related through her music. Each subsequent album reads like a chapter from an autobiography: Share My World (1997), Mary (1999), No More Drama (2001), Love & Life (2003), the multiple Grammy-winning and hit-spewing The Breakthrough (2005), Growing Pains (2007) and Stronger with Each Tear (2009). Along the way, she's lined up a string of hit singles, including "Not Gon' Cry," "Love Is All We Need," Seven Days," "All That I Can Say," "Family Affair" and "Just Fine."

Blige, who co-penned "I Can See in Color" for 2009's "Precious" soundtrack, is also ramping up her acting career. Recently, she starred in the Adam Shankman-directed "Rock of Ages," the theatrical version of the Tony-nominated Broadway musical with stars Tom Cruise, Alec Baldwin and Catherine Zeta Jones. In 2013, Mary J. Blige will star as Betty Shabazz in Betty & Coretta, to air on Lifetime.

As she continues her multi-faceted journey, however, one constant remains for Blige: her fans. "Being connected with their lives is what keeps me going," she says. "They're the reason why I am where I am: confident in knowing who I am and what I can do. With each album, it's just me continuing to grow. And that's the takeaway I want for my fans with My Life II ... to please look at what we've survived and how strong we are now."


This BIO and Photo was reproduced from the Jamaica Jazz & Blues Media Press Kit
[
Back To Negril Travel Guide.com Home Page
]

•
Where To Stay
•
Restaurants
•
Shopping
•
Services
•
Recreation
•
Arts & Heritage
•
Calendar Of Events
•
Night Life
•
Travel Information
•
Photo Gallery
•
Jamaican Attractions
•
Jamaican Music Industry Directory
•
Home
•

•
About Us
•
Complimentary Listing
•
Contact Us
•
•
Our Privacy Policy
•
Disclaimer
•

The NegrilTravelGuide.com is Designed, Developed, Hosted, Marketed, and Maintained by:

Photographs by Barry J. Hough Sr. Photojournalist/Photographer
All Photographs taken with a Nikon D70, D100, D300, or Canon EOS Mark II
© Barry J. Hough Sr - BarryJHoughSr.com. All photos, graphics, text, HTML forms or other contents published in NegrilTravelGuide.com are the sole property of Barry J. Hough Sr - BarryJHoughSr.com and may not be reproduced, copied or utilized in any form without written permission. All Rights Reserved.