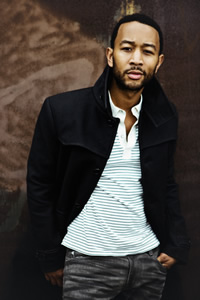 JOHN LEGEND BIO
John Legend is a nine-time Grammy Award winning recording artist, critically-acclaimed concert performer, philanthropist/social activist, and was named one of Time magazine's 100 most influential people. Legend's debut album, Get Lifted (2004) sold more than three million copies worldwide and earned an astounding eight Grammy nominations with three wins for Best New Artist, Best Male R&B Vocal Performance and Best R&B album. Legend's follow-up album, Once Again (2006) earned RIAA platinum certification and a Grammy Award for Best Male R&B Vocal Performance. High off the success of his third consecutive Top 10 album, Evolver (2008), Legend embarked on an extensive world tour with an 11 piece band - his largest traveling show to date. Inspired by the monumental 2008 Presidential election, Legend teamed up with The Roots to release the socially conscious album, Wake Up! (2010.) The album was nominated for five Grammy Awards and won Best R&B Album, Best Traditional R&B Vocal Performance and Best R&B song (for "Shine"- an original composition also featured in Academy Award-winning director Davis Guggenheim's documentary film Waiting for Superman) along with two NAACP Image Awards for Outstanding Album and Outstanding Duo, Group or Collaboration. In 2007, Legend launched the Show Me Campaign, a nonprofit organization fighting poverty around the world. John also sits on the Boards of The Education Equality Project, Teach for America, and the Harlem Village Academies. Legend has been honored several times for his activism, including the 2010 BET Humanitarian of the Year award, the 2009 CARE Humanitarian Award for Global Change, and the 2009 Africare's Bishop John T. Walker Distinguished Humanitarian Service Award. In early 2012, Legend released one of the hottest singles of his career, the chart-topping hit "Tonight (Best You've Ever Had)" featuring Ludacris, which sat atop the Urban AC radio chart for six consecutive weeks. Legend is currently in the studio working on his new album Love in the Future, which is being produced by Kanye West.


This BIO and Photo was reproduced from the Jamaica Jazz & Blues Media Press Kit
[
Back To Negril Travel Guide.com Home Page
]

•
Where To Stay
•
Restaurants
•
Shopping
•
Services
•
Recreation
•
Arts & Heritage
•
Calendar Of Events
•
Night Life
•
Travel Information
•
Photo Gallery
•
Jamaican Attractions
•
Jamaican Music Industry Directory
•
Home
•

•
About Us
•
Complimentary Listing
•
Contact Us
•
•
Our Privacy Policy
•
Disclaimer
•

The NegrilTravelGuide.com is Designed, Developed, Hosted, Marketed, and Maintained by:

Photographs by Barry J. Hough Sr. Photojournalist/Photographer
All Photographs taken with a Nikon D70, D100, D300, or Canon EOS Mark II
© Barry J. Hough Sr - BarryJHoughSr.com. All photos, graphics, text, HTML forms or other contents published in NegrilTravelGuide.com are the sole property of Barry J. Hough Sr - BarryJHoughSr.com and may not be reproduced, copied or utilized in any form without written permission. All Rights Reserved.