Overview by the
Donovan H. Perkins
Chairman - Tourism Linkages Council
At The Launch of the Agro-Tourism Farmers' Market
Norman Manley Beach Park, Negril, Westmoreland
Wednesday, October 30, 2013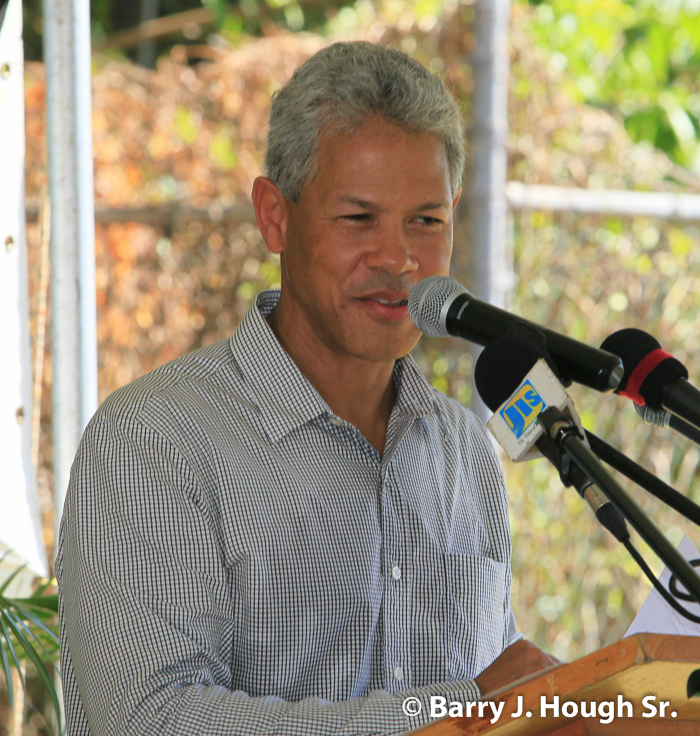 • Dr. the Hon. Wykeham McNeill, Minister of Tourism and Entertainment,

• The Hon. Roger Clarke, Minister of Agriculture and Fisheries

• The Hon. Anthony Hylton, Minister of Industry, Investment and Commerce

• Mayor of Savanna-la-Mar, Councillor Bertel Moore,

• Mr. Donovan Stanberry, Permanent Secretary in the Ministry of Agriculture & Fisheries

• Permanent Secretary in the Ministry of Tourism and Entertainment, Mrs. Jennifer Griffith, who is here with other members of her Team

• Mrs Evelyn Smith, President of the Ja Hotel & Tourist Assoc.

• Mr. Brian Pengelley, President of the Jamaica Manufacturers Association

• Ladies and Gentlemen, good morning . . .

It really is wonderful to be here with you this morning…in your most beautiful parish of Westmoreland.

I have been invited to speak briefly about an important project being led by the Ministry of Tourism and Entertainment. We call it "The Tourism Linkages Hub".

The key objective of this initiative is to strengthen the connections between tourism and other sectors of our local economy. By strengthening these linkages, we expect to see substantial improvements in the following areas:

Farmers, who are in agriculture, will find hotels and restaurants more enthusiastic about buying their high quality…and the delicious produce grown here locally.

Manufacturers from a wide range of industries will also benefit from selling food, drinks, beer, rum, pastries, condiments, local bottled water, to our hotels and restaurants.

Entertainers from the creative industries will have more opportunities to share our wonderful music and culture with visitors from overseas.

Our Linkages Initiative wants to establish a foundation that stimulates sustainable growth in the parishes that rely heavily on tourism, directly and indirectly.

As we speak, a lot of energy and planning is being put into getting our Jamaican tourist sector to understand this most important linkage.

We believe there can be a significant increase the level of consumption of goods and services to be sourced here in Jamaica, and at competitive prices.

We want to encourage our local businesses to participate so that they too can benefit tremendously from our tourism industry. On the platform today with us, are the Presidents of the JMA and the JHTA, and they send a very positive signal and are very committed to making this plan work.

Now, some of you may know me as a banker, but my grandparents on both sides of my family, were farmers in St Ann and St Mary. I has some interesting stories to share with you about those summers, but time does not permit.

You know, I still think of myself as a farmer, but my job is to make money grow in the same way that you want your crops to grow, right?

Seriously though, we are here to encourage the tourism sector to increase their use of Jamaican goods and services, helping local businesses grow and creating more local jobs.

The most important thing we can do for our country now is to ensure that people can see a better future for their children, and their communities also. That's why I am working on this Committee. I see the benefits of the linkages and I believe that we CAN create a "win win" for all concerned, especially our farmers, and everyone along the Linkages chain.

There are three important components to this initiative:

(1) The first component - The Tourism Linkages Council

(2) The second - The Linkages Hub, which will carry out the day to day activities and is responsible for communicating effectively with all the sectors

(3) Finally, the Hub is supported by the Technical Working Groups (TWGs), which are made up of key people from private and public sector entities integral to the initiative. These groups drive action in four main areas: Food & Beverage; Energy Efficient/Green Systems; Manufactured Products; and Services.

The tourism, agricultural, manufacturing and entertainment sectors will all have access to key market information and by making good use of this information, will be able to grow their businesses and strengthen their customer relationships.

My responsibility, in fact, our collectively responsibility is to make sure that we work effectively together, and to provide everyone with an opportunity to benefit.

And our Committee has the full backing of three Ministries whose focus is on growing the Jamaican economy. These Ministries are are – Agriculture & Fisheries; Industry, Investment & Commerce, and Tourism & Entertainment.

In addition, JAMPRO, Rural Agricultural Development Authority (RADA), Jamaica Manufacturers' Association (JMA) and Jamaica Hotel and Tourist Association (JHTA), all provide their support.

With this energetic support, we have the necessary conditions for success. Our goal is to support agriculture so that farmers can build a more promising future for themselves. And we want to see farmers close to Negril, strengthen their relationships with tourism in Negril, and sell their produce here consistently. Right Evelyn?

A study will be conducted to assess what the hotels need, and we will share it with you so that you make better plans to meet this demand. And by knowing the needs of your customers, how much lettuce, potatoes, carrots, and other produce is needed - and agreeing on fair prices - everybody should be happy. Right Minister Clarke?

So when the hotels are ready to buy new beds, the Manufacturers can plan for it. We are already seeing some positive results in manufacturing, where a significant contract from tourism has gone to a local manufacturer. That's good news for the JMA.

We want to see the same success for agriculture, and we want to see it repeated consistently.

We know financing can be an obstacle to business development so EXIM Bank will be working with suppliers serving the sector. Attractive financing will be available and provide short-term working capital in Jamaican dollars to ease your cash flow. But make sure you keep it in the business, RIGHT?

To further strengthen communication and connectivity between buyers and suppliers, the Tourism Linkages Hub will allow you access to databases operated by the Ministry of Agriculture and Fisheries, RADA, JAMPRO, the Jamaica Business Development Corporation, the JMA, and the EXIM Bank.

Today's Agro-Tourism Farmers' Market is a strong signal and commitment to supporting and strengthening our local agriculture sector. And the Tourism and Agricultural ministries and other agencies will be supporting monthly farmers' markets here in Negril from now until next April - April 2014. The plan is spread this model to other resort areas.

I thank Dr Minister McNeill for inviting me to serve on the Council and I thank everyone for coming today. I look forward to working with all the agencies involved, and most importantly, I want the work that we are doing to help you, help your family and help your entire community to grow, live long and healthy, and prosper.

Thank you for listening.
[
Back To Negril Travel Guide.com Main Page
]

•
Where To Stay
•
Restaurants
•
Shopping
•
Services
•
Recreation
•
Arts & Heritage
•
Calendar Of Events
•
Night Life
•
Travel Information
•
Photo Gallery
•
Jamaican Attractions
•
Jamaican Music Industry Directory
•
Home
•

•
About Us
•
Complimentary Listing
•
Contact Us
•
•
Our Privacy Policy
•
Disclaimer
•

The NegrilTravelGuide.com is Designed, Developed, Hosted, Marketed, and Maintained by:

Photographs by Barry J. Hough Sr. Photojournalist/Photographer
All Photographs taken with a Nikon D70, D100, or D300
© Barry J. Hough Sr - BarryJHoughSr.com. All photos, graphics, text, HTML forms or other contents published in NegrilTravelGuide.com are the sole property of Barry J. Hough Sr - BarryJHoughSr.com and may not be reproduced, copied or utilized in any form without written permission. All Rights Reserved.