1 (876) 997-1492 · 1 (876) 788-9212
¦ Rackliff@net2market.net ¦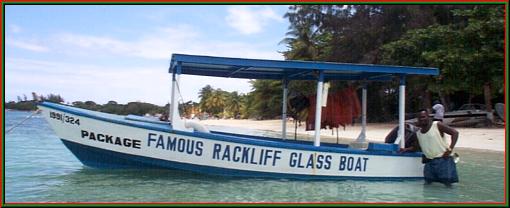 Rackliff Peddy is your friendly Jamaican host and extends a warm Jamaican welcome while showing you the magnificent sights off the waters of Negril Beach.

In order to experience some of the spectacular experiences that the coast of Negril has to offer, the visitor must enjoy one of the many experiences offered by Rackliff on his special "Glass Bottom Boat"!

Some of the many activities offered are:


Glass Bottom Boat Rides to observe the wildlife in their natural habitat
Swimming Lessons
Snorkeling Lessons (Equipment Provided)
Snorkeling at the Reefs (Equipment Provided)
Drop-Line Fishing
Deep Sea Fishing or River Fishing at Orange Bay
Rackliff also offers a variety of coastal cruise trips along the seven and a half-mile stretch of white sandy beaches, which are listed below.
Sunset Cruises to Rick's Café and the Pickled Parrot where you may try out their rope swing or perhaps try some cliff jumping or diving. He also escorts visitors to the Joseph Cave Bar, where you enter the cave by boat and order a refreshing cocktail, then on past the "castles" to the Negril Lighthouse.

Cruises are also available to the Negril Marketplace, Booby Kay Island, or to Bloody Bay where you can snorkel if you like.
Those visitors looking for a more romantic interlude may choose to take one of Rackliff's Moonlight cruises.


For those visitors who are a bit more daring, Rackliff will also charter his boat for "nude cruises" and "nude snorkeling".

Refreshments are provided to all those who join Rackliff on his Glass Bottom Boat while enjoying some of his Jamaican "hospitality"!

Rackliff also offers Aloe Vera Massages and has a wide a variety of beautiful native Conch Shells for sale on his boat.


Rackliff is also able to make arrangements for taxi/transportation services to those visitors wishing to visit areas away from the beach, i.e., the Negril Marketplace, Reggae concerts or sightseeing tours to the Roaring River, Y.S. Falls, Black River, Bamboo Avenue, Rafting on The Martha Brae, and the REGGAE TO WEAR Factory Tour. Just ask… he'll be glad to assist you!!!
Rackliff has T-shirts available on the boat for those visitors who wish to purchase them after their cruise. The cost of a T-shirt is $25.
Don't miss out on the fun!! When you next visit Negril Beach, be sure to look up Rackliff and his spectacular "Glass Bottom Boat"! You'll be glad you did!!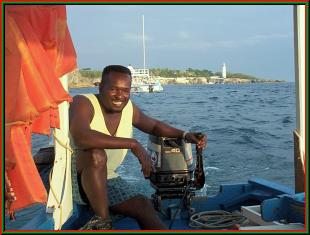 In addition to the phone numbers listed below, messages for Rackliff Peddy may be left at Our Past Time Hotel. Our Past Time is a 20 room Jamaican Bed and Breakfast Hotel located at the beginning of the spectacular seven-mile stretch of white sandy Negril Beach. The Famous Rackliff Glass Boat is also docked there.

Allow Our Past Time to become your "Jamaican home away from home" during your Caribbean vacation. "Where excellence has no season and hospitality is at its best...!"

Rackliff Peddy at Cellular Phone Numbers: 1 (876) 997-1492 or 1 (876) 788-9212.

1 (876) 997-1492 · 1 (876) 788-9212
¦ Rackliff@net2market.net ¦